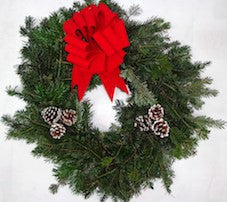 Remember your loved ones this holiday season with an arrangement of forever green pillows. Your order will be a touching remembrance of your loved ones as well as an enhancement of the cemetery's beauty. These arrangements are all natural (made with pine cones, birch, and evergreen branches) and comply with Green-Wood's regulations.
Orders can be placed through December 15, 2023, subject to availability. Items may vary slightly from photos. Evergreens will be placed between December 1 and 22, 2023 and will remain on gravesites throughout the winter.
Please include the name of your loved one and their section, lot, and grave numbers in the notes field prior to checkout.