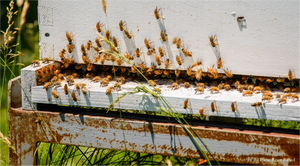 Support your local pollinators by sponsoring a Green-Wood beehive! Your donation helps us maintain healthy honey bee colonies, which help pollinate Green-Wood's 478 acres and keep Brooklyn's natural environment healthy and diverse.

If you are giving this as a gift, please see instructions below.
Green-Wood beehive sponsors receive:
A certificate of sponsorship.

Invitation to an annual sponsors-only event.
Jars of The Sweet Hereafter: Honey from Green-Wood. After the 2024 harvest (in late-summer 2024), full hive sponsors will receive ten 3 oz jars, and half hive sponsors will receive five 3 oz jars.
Gift Instructions: If you would like give a sponsorship, please enter the name, address, and email of that person in the comments box during checkout. If you do not specify otherwise, the certificate will be mailed directly to the recipient.
Want your gift to be fully tax-deductible? Waive your allotment of honey by writing "no honey" in the notes box at checkout. Otherwise, $250 of the half hive sponsorship and $500 of the full hive sponsorship will be tax deductible.